Gemma Lou's Furbaby Treats are all-natural, mostly organic and locally sourced dog treats. They are made in Northern Door County with love. Each one are hand-picked for freshness and quality before packaging. Most of all, every batch is 'taste-tested' by our taste-testers and inspirations, Gemma and Captain!
This new endeavor all started with a furmom wanting to provide quality treats for her furbaby. A passion for all-natural goodness has quickly become an incredible adventure and business!
Our mission here at Gemma Lou's is simple: to create and provide all natural, well-balanced homemade dog treats for our amazing furbabies. We are constantly researching to do so and to grow as we learn. In additional to all-natural, we are also trying to source our perishable products locally, and support local families and businesses. Anyway we can, we will continue to do so!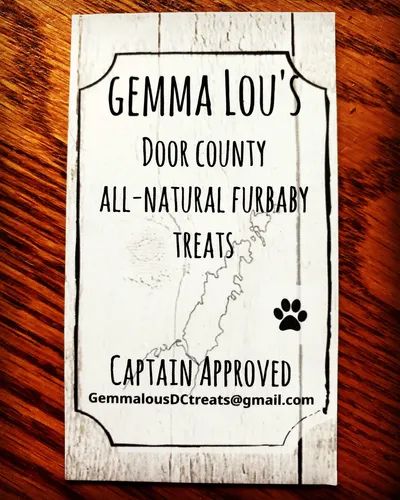 We have a new full-time home!!!!!
Gemma Lou's is excited to announce we have settled n with our family at Henriksen Fisheries at their brand new retail space in Ellison Bay!!!!
Henriksen's Fish House is located at 11644 Old Stage rd
Ellison Bay, WI 54210. We are so happy to have a premiere outlet and some space to stretch out.
We will feature ALL of our all-natural, made with love by hand, furbaby treats, for pups and kits! Our OG, Peanut Butter Goodness, Blueberry Bam Bam and our new dehydrated whitefish snickety snack that is pup AAANNNDDD kitty approved!!!!!
Be sure to stop by and say  hi! 🐾❤
Once purchased, Gemma Lous's longevity and freshness depends on you!
Gemma Lou's All-Natural Furbaby Treats contain NO PRESERVATIVES. All ingredients are top-quality and contain no additives. We pride ourselves in having no fillers or non-natural ingredients and with that, require a little TLC from you once you get them home.
The main concern in the packaging is avoiding moisture. You can take them out of the packaging and keep them on the counter, out of the sun in a cool place for quite some time. At our homebase, we have a bowl on the counter for weeks on end, and Gemma and Captain are thankful for that ;).
For storage and longer keep, please keep them in an air-tight container (zip-lock bag, mason jar) in the refrigerator. *Be warned however, your furbaby might begin to associate the opening of the fridge to the equivalent of a treat bell after awhile!!!! 😀 (true story from a dear friend! 😉
For longer keep, you may store your treats in the freezer for up to 6 months. Please thaw before you give your furbaby our goodness, and again, be mindful of moisture in the packaging and exchange for an air-tight container once thawed.
As mentioned prior, they contain NO PRESERVATIVES. This is intentional. This is on purpose. We pride ourselves on offering all-natural goodness to give to our furbabies. A little extra thought and care in their storage is all it takes. Just as we do for our own all-natural favorites.
We thank you so much for your support and look forward to treating your furbaby into the future.
Best,
Kristie, Gemma & Captain